Economic Goal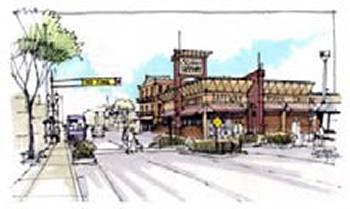 Commercial and industrial development in West Indianapolis provides residents with quality goods, services and jobs and residents support the community aspirations to be a desirable area in which to live, be employed, and locate a business
Action Items
Action items for this area of the West Indianapolis Quality-of-Life Plan are listed below. Click on any action item to expand the table and review our progress; click the title again to close the table.
Key to item status:

Completed      

Ongoing      

Pending      

Deleted
3.1 Facilitate health and growth of local businesses through engagement and support
Action Step
Status
Description
Comments
2011 Year-End Update
2012 Year-End Update
3.1.2
Assist local businesses with facade grants and loans (when available)

One façade grant completed. LISC consultant and WIDC Community Builder promoted to Latino businesses.
Four potential applications for 2012

Facade grant to The Burrito Joint.Application given to Legacy Funeral Home for facade improvement in 2013. Supporting organization for Innotions Enterprises if awarded grant in 2103
3.1.3
Explore need for or creation of a business association/
Some limited progress thru WICF Lunches.  Zoning petition requests also seem to be a good in road with local businesses. Collaborate with Chamber of Commerce to create West Indianapolis business association.
No forward movement
3.2 Attract new businesses to West Indianapolis
| | |
| --- | --- |
| Lead Organization | West Indianapoilis Development Corporation |
| | |
Action Step
Status
Description
Comment
2011 Year End Update
2012 Year End Update
3.2.1
Harding Street Development

Two parcels on east side of Harding  have been sold and in zoning process.  Gas station + Subway is planned for site.
WIDC seeking financial support for water and sewer connection to west side parcel, City View project will result in Harding Street TIF being re-activated

No current development happening on east side of street. Working with city on Harding Street TIF.
3.2.2
GM Re-use Plan

Urban Land Institute completed study for City of Indianapolis WIDC staff participated in study.
Written plan will be provided in about 60 days. Urgent issue- ulimate use for portion of plant not suggested for demolition. WIDC's position(demolish) made known directly to M Huber and M Kennedy. IBJ article restated position.

WIDC believes the best reuse is market rate housing with some commercial component.  Lots of public interest in site and how it is developed.
3.2.3
Morris Street Complete Street

Plan completed and submitted for TE grant. Not moved forward but advised it was a strong application.  Working on further support from IPL and LTC
City meeting held to promote possible implemenation of key piece of plan with Rebuild Indy or regualr DPW actvity.  Determine if plan can be accepted by DPW as a "Complete Street" plan.

Conversations with Lilly, IPL and City of Indianapolis as to how to move the project forward.
Performance Measures:
No. of new businesses
Completion of Morris Street plan
3.3 Capitalize on redevelopement site opportunites and promote available tools
| | |
| --- | --- |
| Lead Organization | West Indianapoilis Development Corporation |
| | |
Action Step
Status
Description
Comment
2011  Year End Update
2012 Year End Update
3.3.1
Harding Street TIF
WIDC in conversation with the bond bank
Continued conversations with Bond Bank
3.3.2
GM Reuse Plan
Urban Land Institute completed study for City of Indianapolis.  Written plan will be provided in about 60 days.
Pending
3.3.3
Harding Street Development
2 parcels sold on east side of street.  Need to bring water and sewer to west side -discussing loan possiblities
Pending development
3.3.4
Willoughby's relocation in 2012 out of WI
WIDC met with Willoughby's, property listed on Indy Site Finder,
For Sale
3.3.5
Morris Street Complete Street Plan

Meeting scheduled with LTC engineer interested in project
WIDC will be creating a major projects committee and engage several business/corporment members

Continued meeting with City of Indianapolis and City/County Councilor
3.3.6
Look for opportunities to build on L D of S investment
2011 Overall Total WI Project support – $197,000

Lilly Day of Service focus on WI
Conintued maintenance of median
Purchase and clean-up of the Phoenix builidng
Re-design of LTC North
Habitat creation at Lilly Rec Park

ROW investment in Key Learning Community Park. Master Plan created.Invasives removed, public art installed. No planting due to 2012 drought
3.3.7
 
Promote sustainable/green building practices in WI

SWHC & LTC
Performance Measures:
No. of projects utilizing tools
3.4 Celebrate and promote current local businessess
| | |
| --- | --- |
| Lead Organization | West Indianapoilis Development Corporation |
| | |
Action Step
Status
Description
Comment
2011 Year End Update
2012 Year End Update
3.4.1
Catalogue WI businesses
New goal from WI Leadership Retreat 2011
WIDC is considering how this might be included in strategic plan but unsure benefit of cataloguing businesses. Might opt to catalogue vacant commerical property.
3.4.2
Interview owners to discover their needs and interests/small groups
3.4.3
Complimentary Ad  in West Indianapolis Community News
4 businesses featured in WI Community News

Keefer's Family Hair Care
Karadan Security Services
West Morris Street Dairy Queen
Family Dollar

Ruble Flower
Exact Tax
CAP
WI Neighbors, KIB and the City of Indianapolis – Neighborhood Clean-up
Marathon Gas Station
Fullhouse Asian Cuisine
Direct Delivery
Legacy
Barry's Pizza & Wings
Burrito Joint